Featured Member:
fresh flower and foliage haku crowns, wristlets, lei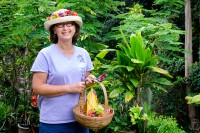 Season(s):
year round
year round
Products:
fresh flower and foliage haku crowns, wristlets, lei ti leaf lei plumeria lei
Heavenly Hakus specializes in creating rainbow colored wili-style fresh flower, herb and foliage head crowns, wristlets, neck lei as well as ti leaf lei with or without flowers entwined and plumeria lei in season. custom orders are welcomed, delivery and pick up anywhere on Kauai as well as being shipped can be arranged. At least 48 hours notice, more for larger orders is requested and highly recommended. Haku lei making classes available
Contact:
please call or email. 808 634-9999 heavenlyhakus@aol.com
Kauai Grown Farm Products Kauai Grown features both fresh and processed products that showcase what is grown and raised on Kauai. All participating products must contain at least 51% locally farmed ingredients.

Feast on gourmet cheese, coffee, jams, mead, chocolate, and more. Luxuriate in the smells of Kauai, and nurture your skin with Hawaiian herbal body care products. These talented artisans are passionate about quality and freshness, and weave aloha into their products. Nothing makes a better gift than the gift of aloha!