Featured Member:
Theobroma Farm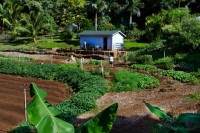 Kenneth J. Lindsey
Season(s):
Products:
Lettuce Beets Arugula
Locally grown using sustainable organic methods. Premium produce of all kinds.
Contact:
E-maol
Kauai Grown Farmers & Ranchers Our little island relies heavily on imported goods that have traveled up to 3,000 miles by air and ocean. By purchasing from Kauai's farmers, ranchers and fishermen we plant the seeds for strong communities by cultivating the soil for economic stability. Buying local also means we get products at their peak freshness, at affordable prices.

Scroll down to meet some of our best growers from around the island, and learn where you can find their products.