Kauai Juice Co
Hours:
varies
Where to Buy:
harvest market, the dolphin fish market, hanalei liquer store, the westin princeville, banana joes, healthy hut, metamorphus yoga, northshore pharmecy, princeville gas station, common ground kilauea, small town coffee kapaa, hoku whole foods, kojimas store kapaa, vim and vigor lihue, paplani gelato poipu, koloa dolphin fish market, whalers general store poipu, foodland princeville, foodland kapaa, trees lounge, marriott wiaohi poipu, courtyard marriott kapaa, wine shop koloa, bikram yoga kapaa
Our Kauai Grown Sources: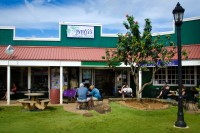 Papaya's Natural Foods & Cafe
Kauai Juice Co

Value-Added Producer

About Uskauai juice co creates a range of local raw organic kauai made products. kauai kombucha being our most popular, kombucha is a fermented fizzy health tonic full of beneficial bacterias and acids. since the beginning we've been adding in season fruit juices to it to make it super tasty. we also make raw kale chips. kale chips are a great way to get more kale into your diet. we get 100% of our kale from waipa, and we dehydrate the kale and the yummy sauces on it at a low 115 degrees to keep all it's vital nutrients and enzymes in tack. we also make organic raw chocolate that tastes so creamy and delicious you'd never think it was vegan. the milk flavor comes from using local dehydrated coconut meat. also a portion of our sales goes directly to hawaii seed to support cleaner, healthier and more sustainable farming practices for hawaii's communities.