Featured Member:
Tropical Flowers Express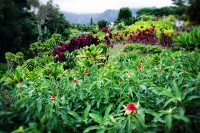 John & Theresa Gordines
Season(s):
year round
Products:
Tropical Flowers and foliage
We are a local family owned & operated grower and seller of exotic tropical flowers and floral gift boxes on Kauai, Hawaii. We can offer the freshest exotic tropical flowers anywhere because they come straight from our flower farm to your door. Hawaiian tropical flowers are famous around the world for their outstanding quality, beauty and long vase life, and are suitable gifts for any occasion or holiday -- Mothers Day, Valentines Day, Christmas, weddings, anniversaries, or simply to express your feelings to a loved one.
Contact:
gordines@kauai flowers.com toll free 1 800 453-6416
Kauai Grown Farmers & Ranchers Our little island relies heavily on imported goods that have traveled up to 3,000 miles by air and ocean. By purchasing from Kauai's farmers, ranchers and fishermen we plant the seeds for strong communities by cultivating the soil for economic stability. Buying local also means we get products at their peak freshness, at affordable prices.

Scroll down to meet some of our best growers from around the island, and learn where you can find their products.