Featured Member:
Orchid Alley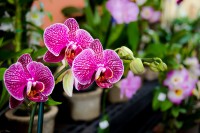 Mr. & Mrs Sams
Season(s):
All year round
Products:
Orchids palms Foliage plants
At Orchid Alley we are a family owned business & grow thousands of different types of orchids & tropical plants that are sold in our retail store & throughout local markets. We pack our orchids meticulously & with incomparable care. We then ship our orchids in full bloom anywhere in the U.S.A. (even during winter). We also grow orchids & do floral arrangements for Kauai & mainland weddings & events. At Orchid Alley we always maintain that 'Orchids are the perfect living gift.'
Contact:
-1383 Kuhio Highway, Kapaa, HI 96746 822-0486
Kauai Grown Farmers & Ranchers Our little island relies heavily on imported goods that have traveled up to 3,000 miles by air and ocean. By purchasing from Kauai's farmers, ranchers and fishermen we plant the seeds for strong communities by cultivating the soil for economic stability. Buying local also means we get products at their peak freshness, at affordable prices.

Scroll down to meet some of our best growers from around the island, and learn where you can find their products.