Featured Member:
Hawaiian Jungle Shield for People, Kids and Babies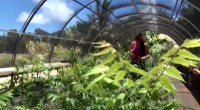 Season(s):
Products:
Hawaiian Jungle Shield for People, Kids and Babies Hawaiian Body Shields for Horses, Dogs and Livestock Neem Tree Hawaii - Neem Tree Extracts
Second Skin Naturals Hawaiian Body Shields are All Natural, All Purpose, Organic Body care products for People, Pets, Plants and Livestock. Hawaiian Body Shields are Unique and Innovative formulations of Kauai Spring Water, Hawaiian Herbs, Plant Extracts, and Pure Essential Oils. Our Hawaiian Body Shields are like a 'Second Skin' to protect, sanitize, cleanse, moisturize, soften, sooth, refresh, renew and heal the skin. The uplifting Hawaiian Herbal scent is very pleasant, discreet, and non-offensive to the environment as well as those in it. Our Hawaiian Jungle Shield is Doctor Recommended for babies, children, pregnant mothers, the elderly, and those with chemical sensitivities. Our Hawaiian Jungle Shield contains NO DEET, it is completely DEET free, All Natural, Cruelty Free, Paraben Free, and 100% Vegan. Second Skin Naturals supports Sustainable Organic Agriculture in Hawaii and abroad. We source only the finest organic and sustainably farmed pure plant extracts in the world. Order online at http://www.secondskinnaturals.com for our Hawaiian Jungle Shield for People, Hawaiian Equine Shield for Horses, Hawaiian Cattle Shield for Livetock and Hawaiian Canine Shield for Dogs.
Contact:
Website www.secondskinnaturals.com
Kauai Grown Farm Products Kauai Grown features both fresh and processed products that showcase what is grown and raised on Kauai. All participating products must contain at least 51% locally farmed ingredients.

Feast on gourmet cheese, coffee, jams, mead, chocolate, and more. Luxuriate in the smells of Kauai, and nurture your skin with Hawaiian herbal body care products. These talented artisans are passionate about quality and freshness, and weave aloha into their products. Nothing makes a better gift than the gift of aloha!